CALLERY VFC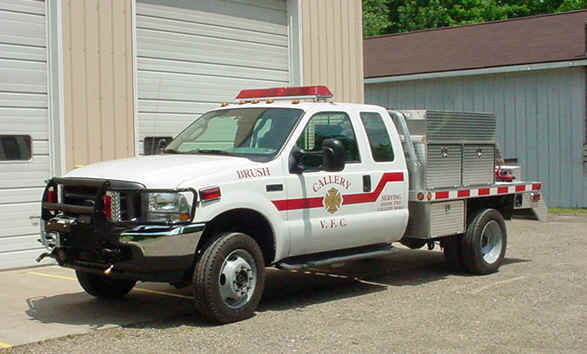 The "Bandit" Series brush truck comes in a wide variety of styles dependent on the truck's application and needs. Callery V.F.C. opted to use an F-450 Ford Extended Cab Super Duty. Powering this brush-fire battling beast is a Triton V-10 gas powered engine linked to a heavy duty 6-speed transmission.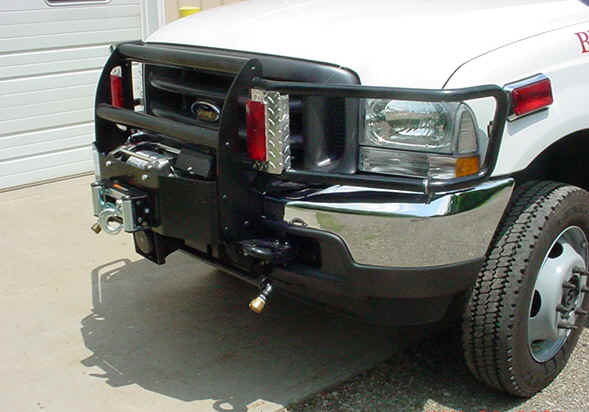 Making safe passage feasible this "Bandit" enters with a durable Smittybilt front brush guard, underbody skid plate, and a fully cab-integrated Front Spray Bar with (2) 1" Nozzles. And making sure that this rig can get out of anywhere it can get into is a Warn 12,000 lb. Winch.
A full Code 3 Halogen Lighting / Siren Package including:
Code 3 LP 47" Light-bar
Code 3 Halogen Front, Intersection, & Rear Flashers
Code 3 100 Watt Siren with Cast Aluminum Bumper Mount
The (7) Weldon Clear underbody lights certainly add to the safety of the men it serves on those dark nights.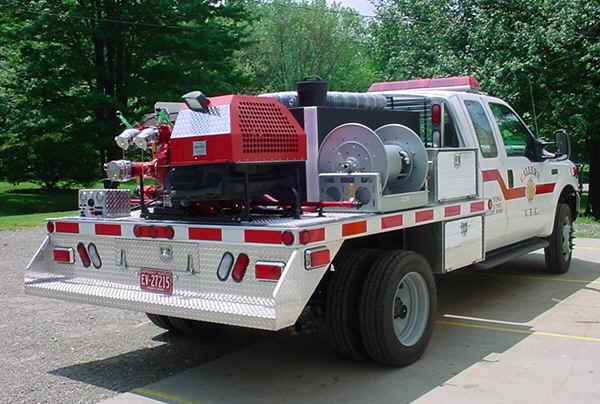 Callery's truck is equipped with a long list of extras, custom under-bed storage area for 4" suction hose & rakes, 300 gallon Defender II Poly Tank, 400 ft. Forestry Electric hose reel, Full Scotchlite Lettering and Striping. Keeping you aware of water level is a MC Products mini 4 light Display located in the cab.
The CET 625 GPM 46HP Volkswagen Gas powered pump can make more than an ample amount of water to supply the (2) 2.5" Discharges. Its 4" Suction is capable up to an amazing 20' of lift thanks to its exhaust primer.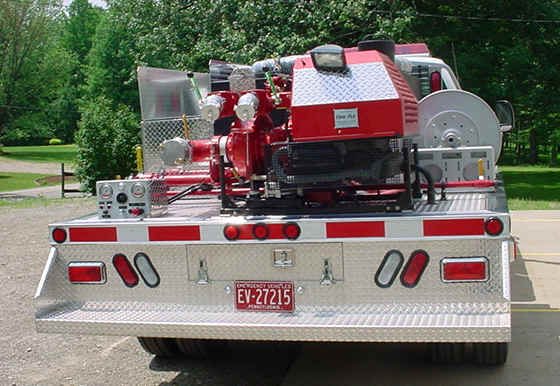 This "Bandit" Series brush fire truck is simply stated by "workhorse." The capabilities on or off road will amaze even some of the most experienced firefighters. This truck was meant for rural fire fighting at it's best. Offering spacious cabinets to store equipment and tools, but still leaving room on the deck to mount the ever necessary Indian Tanks and foam packs.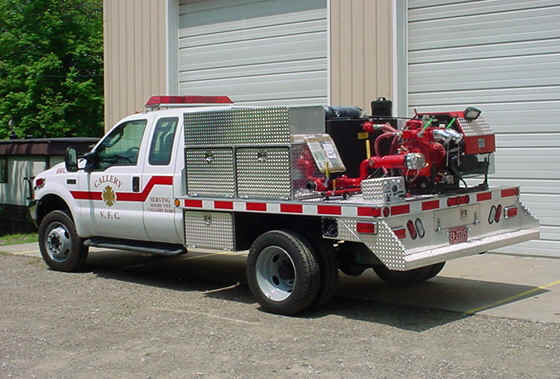 The Driver's side of the truck features a large aluminum (60" x 20" x 20") high-side compartment with hose tray. Under the body hangs an all aluminum "Saddlebag" compartment measuring 30" x 16" x 20".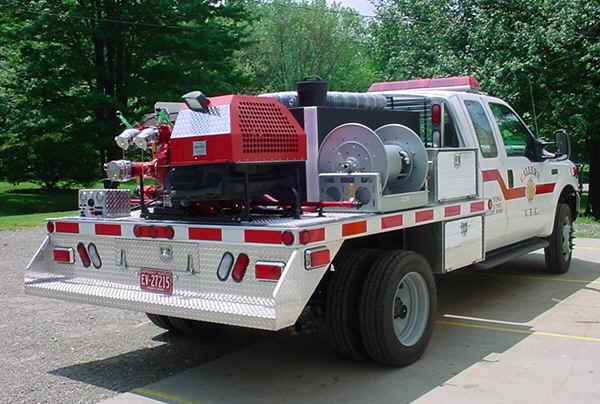 The passenger's side promotes even more storage space with it's 30" x 20" x 20" aluminum compartment in front of the hose reel and the other 30" x 16" x 20" aluminum "Saddlebag" compartment tucked in directly below. The hose reel itself is electric / manual rewind and will hold up to an incredible (8) lengths of 1" x 50' Forestry hose.