SPRINGFIELD TWP. VFD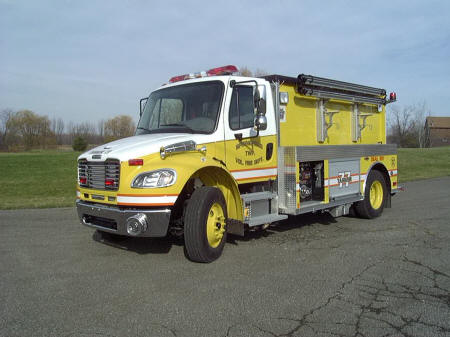 Commercial Fire Tanker-Pumper with 3-man cab, Cummins 330 HP engine, Allison Automatic, Heavy Duty Frame, Chrome Grille and Front Bumper, Steel Disc Wheels, Code 3 Halogen Light Bar and Perimeter Warning Lights, Federal Q2B Chrome Siren, Dual Air Horns, Aluminum Body with Extra-Large Compartments, ROM Roll-up Doors, and Kussmaul Pump Plus Battery Conditioner with Air Compressor.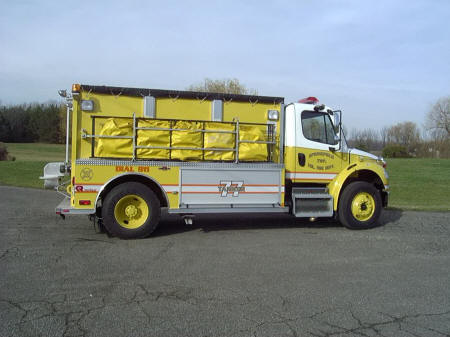 Apparatus Includes Darley 500 GPM PTO Pump, 1,800 Gallon Poly Booster Tank, Left Side Catwalk Discharge, Dual 2-1/2" Discharges, Fold-Down Porta-Tank Rack with 2,100 Gallon Fol-Da-Tank, 12-Volt Side Scene Lights, Left Side Catwalk Preconnect Discharge with Hose Tray, Dual 2-1/2" Discharges.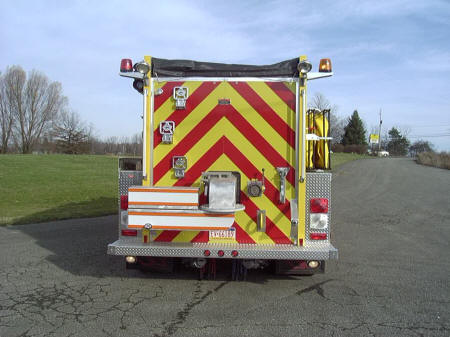 Rear of Apparatus Includes 10" Rear Dump Valve with Swivel Chute, 2-1/2" Rear Tank Fill, Chevron Striping, On-Spot Tire Chains, Under Body Lights, Bright Finish Vertical Handrails, Folding Access Steps, and Rear Scene/Spot Lights.