Harpersfield Vol. Fire Department
Geneva, Ohio
FIRE-FLY "Tanker 1" Commercial Tanker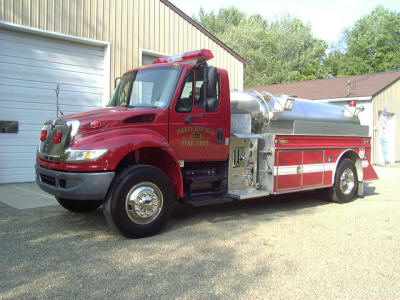 "TANKER 1" Series commercial fire tanker with International 4400 Series chassis, 300 HP engine, Allison 5-speed automatic transmission, Realwheel stainless steel inserts.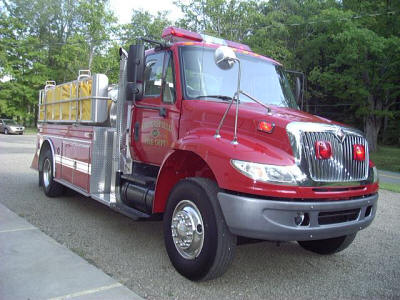 NFPA warning light package includes MX-7000 light bar, Whelen grille lights and perimeter lights. Argent front bumper, chrome grille, West Coast mirrors with spotter mirrors, chrome vertical exhaust stack.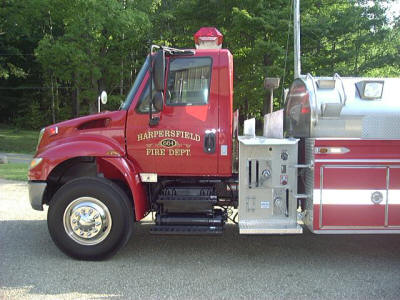 Low profile pump enclosure with 400 GPM PTO pump, dual 2-1/2" gated discharges, 2-1/2" suction intake, dry crosslays for hose storage, air inlet for brake system, auto-eject outlet for battery conditioner.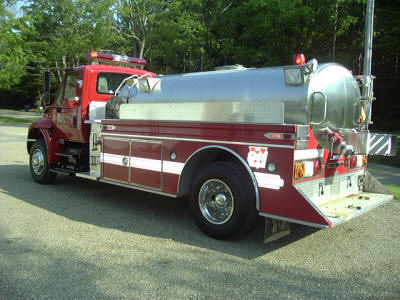 1,800 gallon water tank with NFPA baffles, large side compartments, dry hose storage on left catwalk, left and right side scene lights, 10" rear dump valve, dual rear tank fills, NFPA reflective striping, Code 3 Model 550 rear rotating lights.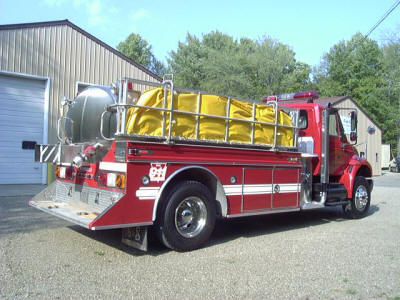 Large side storage compartment, fold-down storage rack for 2,100 gallon porta-tank, large stop-brake-turn-back-up lights, rear spot lights.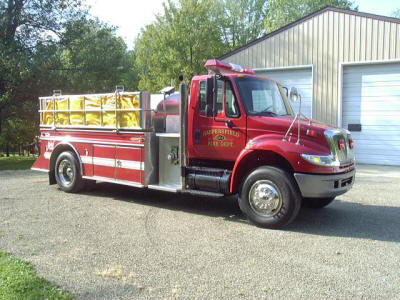 Two-door cab with driver and officer seat, 50-gallon step fuel tank, chrome vertical exhaust stack, Realwheel stainless steel wheel inserts, aluminum diamondplate running boards at pump panels, pump panel lights on driver and curb sides, under-cab lights.