HANNASTOWN VFD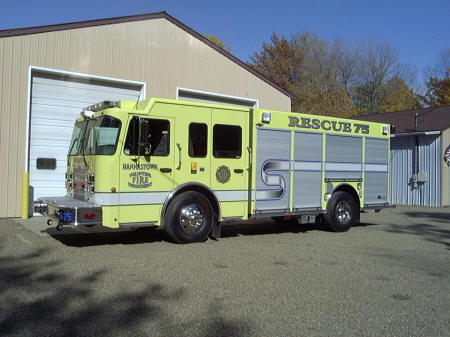 Heavy Rescue Truck with Spartan Metro-Star Custom Chassis, Cummins 425 HP Diesel Engine with Engine Brake, Automatic Transmission, 8-Man Seating, Chrome Grille and Extended Front Bumper with Preconnect, Steel Wheels with Realwheel Stainless Steel Inserts, Traction Tread Rear Tires, On-Spot Tire Chains, Code 3 LED Light Bar and LED Perimeter Lights, Federal Q2B Chrome Siren, 12-Volt Brow Light, Zico Folding Chocks.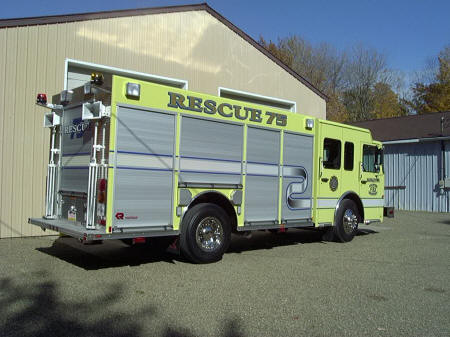 Aluminum 16 Ft. Apparatus Body with ROM Roll-up Doors, Rescue Style Compartments, Full-Height Rear Compartment with 500 lb. Roll-out Tray and Drop-Down Tray for Rescue Tools, Dual Hydraulic Hose Reels, Adjustable Shelving, Additional Compartment Lighting, 12-Volt Side and Rear Scene Lights, Custom Gold Leaf Lettering and Reflective Striping.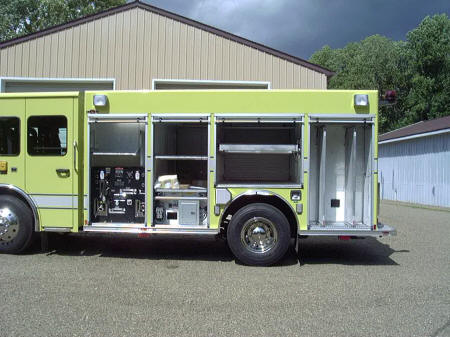 Darley 500 GPM PTO Pump, 300 Gallon Water Tank, Foam-Pro Foam System with 20-Gallon Foam Tank, Smart-Power 10 KW PTO Generator, Command Light Tower Recess Mounted in Roof, Dual Electric Cord Reels, Pull-out Tool Boards, Adjustable Shelving, Under Body Lights, and Electrical Outlets on Body Sides, Rear, and In Cab.